Vitamin C deficiency on skin health and how Perfectil helped me to get healthier skin
All of us know that the skin is the largest organ of the body. One of the main functions of the skin is protection. It acts as a barrier and protects the body from external factors such as bacteria, chemicals, and temperature. Normal skin contains high concentrations of Vitamin C, which supports important and well-known functions, stimulating collagen synthesis and assisting in antioxidant protection against UV damage leading to healthier skin. However, the effects of Vitamin C deficiency on skin health would not only be limited to unhealthier skin.
Recently I got in touch with my dermatologist and got into a long discussion before starting my skincare. I understood that a deficiency of Vitamin C would not only make our skin dull and age, but also have difficulty healing from wounds and fight infections. So, I did some research on the effects of Vitamin C deficiency on skin health. But before we dive into the topic, let's understand the role of Vitamin C for healthier skin.
Why is Vitamin C important for healthier skin?
Vitamin C helps in the production of collagen (a protein) which maintains and repairs the skin, bones, cartilage, ligaments, tendons, blood vessels and teeth (1). As per dermatologists worldwide, Vitamin C also helps in slowing signs of skin ageing, prevents sun damage, and improves the appearance of wrinkles, dark spots, and even acne (2). It is also an excellent antioxidant that fights harmful toxins which damage our skin.
Our skin has two layers, the outer layer provides the barrier and the inner layer ensures strength and elasticity. Vitamin C helps support both layers keeping our skin healthy and glowing inside out. So, applying, or consuming Vitamin C can combat free radicals and may improve the overall appearance of healthier skin.
It is also known that "Vitamin C is a cofactor for lysyl & prolyl hydroxylase, which stabilize the triple helical structure of collagen. The most commonly described skin manifestation accompanying Vitamin C deficiency is attributed to impaired collagen synthesis." (4)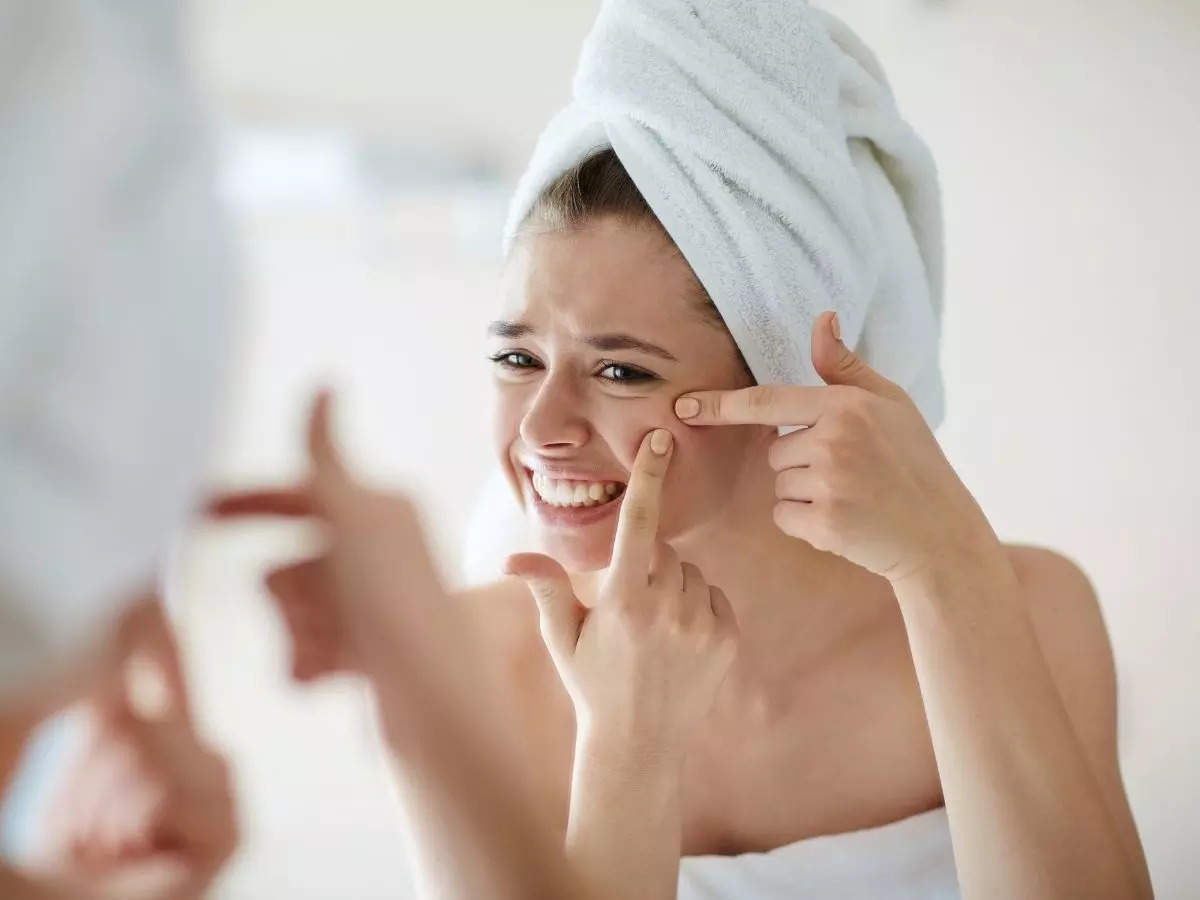 What are Vitamin C deficiency symptoms?
A deficiency of Vitamin C means that new collagen cannot be formed which results in healthier skin. The deficiency affects the health and repair functions of various tissues in our body. The first visible symptoms of Vitamin C deficiency (1) on skin health would be
Dry, rough or bumpy skin,
Tiny red spots,
Red-blue bruises on your skin.
Other known symptoms include:
Tiredness and weakness
Muscle and joint pains
Nosebleeds, splitting hair
Sudden and unexpected bleeding or swelling of your gums
Poor healing of wounds and fighting infections
Bleeding into joints, causing severe joint pains
Changes in your bones, even weight loss

How to eliminate Vitamin C deficiency on skin health
1. Foods Rich In Vitamin C. The easiest way to include Vitamin C would be by consuming foods that are rich in Vitamin C. It is not difficult to consume Vitamin C as a part of a healthy balanced diet. It is mostly found in fruits and vegetables like:
Citrus fruits eg Kiwi fruit, oranges, sweet lime and lemons
Berries like Strawberries and raspberries
Citrus veggies like Bell Peppers
Green leafy veggies like Spinach
Cabbage, Cauliflower and Broccoli
Potatoes etc
2. Cosmetics with Vitamin C. There are numerous skin and beauty care products like serums, creams, and moisturizers available with Vitamin C in them. These can also help combat the outer appearances and is not long-term.
3. Take Vitamin C supplements. There is a vast range of health supplements available in the market today which has so many types/combinations of essential vitamins and minerals. It is so confusing to find out the right one as most of them look similar. Also, there may be a hesitation to know and understand what would work for me. But if one finds the right supplement to fill in your nutritional gaps, it may work wonders.
Why do we need a Vitamin C supplement?
The daily recommended intake amount for vitamin C is 75 milligrams (mg) a day for women.
If you can't get enough Vitamin C through food alone, you can take supplements such as Perfectil from Vitabiotics. This once-a-day vitamin supplement is enriched with Vitamins B2, B3 and biotin that contribute to the maintenance of normal skin and prevent premature skin ageing, as well as sunspots and lesions. The minerals, such as selenium and zinc, found in this formula contribute to the maintenance of good hair and nail health as well.
How Perfectil helped me to get healthier skin in the last 3 months
I got introduced to Perfectil for skin, hair and nails by a friend. She told me about this one for all supplements with 22 micronutrients including biotin, zinc and selenium. Along with that, it does not contain artificial colours, preservatives, lactose, yeast or gelatine. It's gluten-free and not tested on animals.
Impressive, right?
The idea of just taking a tablet of Perfectil from Vitabiotics per day for healthier skin, which simultaneously works on hair and nail health too; all seemed too good to be true and I thought of giving it a try myself.
In September, I got my first pack from Amazon to make my brittle nails healthy and stronger but now after using it for over 2 months, I can see positive changes in my skin texture and hair health too.
I believe, we all women have the right to look beautiful, and confident with healthier skin. Rather than spending money on cosmetics and multiple parlour visits, I would highly recommend investing in a good supplement that takes care of all your health and beauty needs without any side effects.
However, you should not consider taking a supplement as a substitute for a healthy balanced diet or a healthy lifestyle. These are meant to fill in any gaps you may have. Though Perfectil is completely safe to consume, it is still advisable that you consult your doctor before starting the routine.
Tags: Vitamin C deficiency on skin health, healthier skin, Perfectil from Vitabiotics
References
https://patient.info/healthy-living/vitamin-c-deficiency-leaflet
https://www.health.harvard.edu/blog/why-is-topical-vitamin-c-important-for-skin-health-202111102635
3. https://vitabiotics.in/pages/hair-skin-nails-vitamins-perfectil
Dermato-Endocrinology 4:3, 298–307; July–December 2012
_________________________________________________________________________________________________________________
COPYRIGHT NOTICE –
© GUNJAN GUPTA UPADHYAY. THE UNAUTHORIZED USE OR DUPLICATION OF THIS MATERIAL WITHOUT EXPRESS AND WRITTEN PERMISSION FROM THE AUTHOR IS STRICTLY PROHIBITED. ANY EXCERPTS OR LINKS TO BE USED, PROVIDED FULL AND CLEAR CREDIT ARE PROVIDED WITH PROPER LINKS TO GUNJAN GUPTA UPADHYAY OR TUGGUNMOMMY.COM. THIS IS TO BE DONE IN THE RIGHT AND SPECIFIC DIRECTION TO THE ORIGINAL CONTENT.
DISCLAIMER –
THE CONTENT IS NOT AT ALL INTENDED AS A SUBSTITUTE FOR ANY PROFESSIONAL MEDICAL ADVICE, DIAGNOSIS, OR TREATMENT. IT IS SUGGESTED THAT YOU ALWAYS SEEK THE ADVICE OF YOUR PHYSICIAN OR ANOTHER QUALIFIED HEALTH PROVIDER WITH ANY QUESTIONS YOU MAY HAVE REGARDING A MEDICAL CONDITION.
****THIS IS A SPONSORED BLOG POST and a part of the public awareness campaign by Vitabiotics. The post is meant to share Vitamin C deficiency on skin health and the genuine experience of using perfectil, a skin, nail and hair supplement. The opinions expressed in this post are the personal views of the author. They do not reflect the views of any brand. Any omissions or errors at the author's end do not assume any liability or responsibility on any party mentioned in the blog.